VS6024N 60A 12V 24V LCD ViewStar Solar Controller
VS6024N 60A 12V 24V LCD ViewStar Solar Controller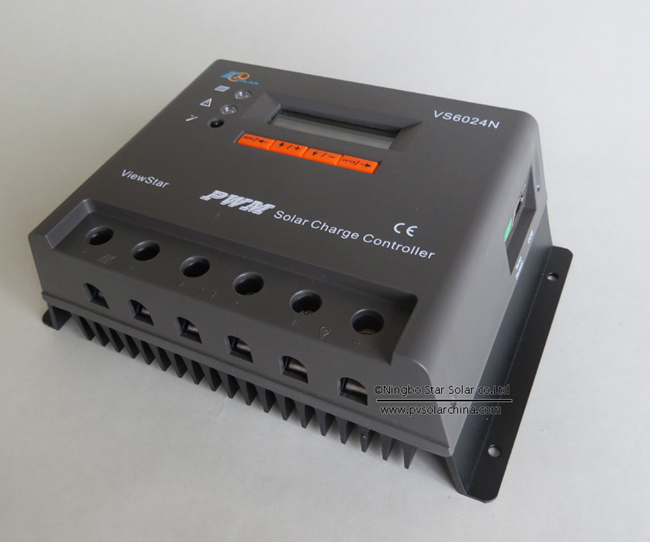 ViewStar solar charge controller adopts the most advanced digital technique, displays on the LCD and operates fully automatically. The Pulse Width Modulation(PWM) battery charging and the unique control technology can greatly increase thelifetime of battery. It has various unique functions and easy to use.
The controller is for off-grid solar system, and protects the battery from being over charged by the solar module and over discharged by the loads. The charging process has been optimized for long battery life and improved system performance. The comprehensive self-diagnostics and electronic protection functions can prevent damage from installation mistakes or system faults.
Feature:
*32 bit MCU with high speed and high performance
*12 bit A/D high-precision sampling to ensure accuracy
*Excellent EMC design
*Nominal system voltage automatic recognition
*High efficient Series PWM charging, increase the battery lifetime and improve the solar system performance
*Use MOSFET as electronic switch, without any mechanical switch
*Widely used, automatically recognize day/night
*Adopt graphics dot-matrix LCD screen and HMI (human-machine interface) with 4 buttons, integrated menu displaying and operation
*Humanized design of browser interface, undertake every operating conveniently
*Full control parameters setting and modification, diversified load control mode
*Gel, Sealed and Flooded battery type option
*Adopt temperature compensation, correction algorithm for charging and discharging parameters automatically and improve the battery lifetime
*Electronic protection: Overheating, over charging, over discharging, overload, and short circuit.
*Reverse protection: any combination of solar module and battery.
Specification:
| | |
| --- | --- |
| Model No: | VS6024N |
| Rated Current Load | 60A |
| Nominal SystemVoltage | 12V 24V Auto |
| Maximum Battery Voltage | 32V |
| Maximum PV Voltage | 48V |
| Rated Battery Current (A) | 60A |
| Charge Circuit Voltage Drop | ≤0.24V |
| Discharge Circuit Voltage Drop | ≤0.16V |
| Self-consumption | ≤44mA |
| Communication | TTL232 level /RJ45 interface(Optional) |
| Remote temperature sensor interface | 2ERJ—3.81 |
| Ground | Negative to the ground |
| Working temperature | -20℃~ +55℃ |
| Storage temperature | -30℃~ +80℃ |
| Enclosure | IP30 |
| Terminal | 35mm2 |
| Net Weight | 1.3kgs |

Technical parameters:
Battery type
Gel
Sealed
Floodeed
Over Voltage Disconnect Voltage
16V
Charging Limit Voltage
15.5V
Over Voltage Reconnect Voltage
15V
Equalize Charging Voltage
NO
14.6V
14.8V
Boost Charging Voltage
14.2V
14.4V
14.6V
Float Charging Voltage
13.8V
Boost Reconnect Charging Voltage
13.2V
Low Voltage Reconnect Voltage
12.6V
Under Voltage Warning Reconnect Voltage
12.2V
Under Voltage Warning Voltage
12V
Low Voltage Disconnect Voltage
11.1V
Discharging Limit Voltage
10.8V
Temperature Compensation Coefficient
-30mV/℃/12V(25℃ ref)
(TEMPCO)*
Grounding
VS****24N / VS****48N:Negative to the ground
Working temperature
-20℃~ +55℃
Storage temperature
-30℃~ +80℃
Enclosure
IP30
Voltage parameters are default value at 25℃, 12V, please use 2X (24V system), 3X (36V system),4X (48V system)

VS6024N Solar Controller data sheet
VS6024N Solar Controller user manual